Regular price
$60.00 USD
Sale price
$57.00 USD
Unit price
per
Sale
Sold out
Share
LUMIERE WHITE TEA TREE BRIGHTENING TONER AND SERUM SET CONTAINS


  1. LUMIERE NIACINAMIDE HYALURONIC ACID WHITE TEA TREE TONER
SIZE: 5.07 OZ | 150 ML
SKIN TYPE: ALL SKIN TYPES
IDEAL FOR: UNEVEN SKIN TONE | DRYNESS I PORES | REDNESS
FORMULATION: LIGHTWEIGHT LIQUID
  2. LUMIERE MULTI-CORRECTIVE FIRMING LIFTING SERUM

SIZE: 1.00 OZ | 30 ML
SKIN TYPE: ALL SKIN TYPES
IDEAL FOR: FINE LINES | REDNESS | DULLNESS | UNEVEN SKIN TEXTURE
FORMULATION: LIGHTWEIGHT LIQUID
LUMIERE WHITE TEA TREE BRIGHTENING TONER AND SERUM SET
Lumiere White Tea Tree Brightening Toner and Serum Set is ideal for treating and improving skin tone, texture, and appearance, reducing the appearance of wrinkles and blemishes. With long-term use, you can see a visible difference in your skin.
Lumiere Niacinamide Hyaluronic Acid White Tea Tree Toner: A hemp seed oil and niacinamide infused toner for a youthful and even skin tone. La Verne White Tea Tree Treatment Toner provides your skin with a fresh appearance and is specially formulated with hyaluronic acid to reduce the appearance of fine lines and wrinkles and hydrate and moisturize, making your skin fresh and healthy. Un toner infusé d'huile de graines de chanvre et de niacinamide pour un teint jeune et uniforme. La Verne White Tea Tree Treatment Toner donne à votre peau une apparence fraîche. Il est spécialement formulé avec de l'acide hyaluronique pour réduire l'apparence des rides et ridules et hydrater votre peau, la rendant fraîche et saine.
Lumiere Multi Corrective Firming Lifting Serum: La Verne Lumiere Multi-Corrective Firming Lifting Serum is formulated with Niacinamide and Hyaluronic Acid for renewal, deep hydration, and brightening. It is specially designed to target problem areas such as dark spots, loss in the firmness of the skin, restore collagen production, and reduce the signs of the aging process. La Verne Lumiere Multi-Corrective Firming Lifting Serum est formulé avec du Niacinamide et de l'Acide Hyaluronique pour un renouvellement, une hydratation profonde et un éclaircissement. Il est spécialement conçu pour cibler les zones à problèmes telles que les taches brunes, la perte de fermeté de la peau, restaurer la production de collagène et réduire les signes du processus de vieillissement.
BENEFITS & FEATURED INGREDIENTS
INGREDIENTS
Lumiere Niacinamide Hyaluronic Acid White Tea Tree Toner
Water, Centella Asiatica Extract, Caprylic/Capric Triglyceride, Niacinamide, 1,2-Hexanediol, Vitis Vinifera (Grape) Fruit Extract, Vigna Angularis Seed Extract, Butylene Glycol, Algae Extract, Squalene, Brassica Oleracea Capitata (Cabbage) Leaf Extract, Hydroxyethyl Acrylate/Sodium Acryloyldimethyl Taurate, Copolymer, Cannabis Sativa Seed Oil, Citrus Limon (Lemon) Fruit Extract, Punica Granatum Fruit Extract, Citrus Reticulata (Tangerine) Peel Oil, Allantoin, Hydrolyzed Collagen, Glyceryl Caprylate, Sodium Hyaluronate, White Tea Tree Oil.
Lumiere Multi-Corrective Firming Lifting Serum
Water, Glycyrrhiza, Uralensis (Licorice) Root Extract, Morus Alba Bark Extract, Scutellaria Baicalensis Root Extract, Niacinamide, 1,2-Hexanediol, Glycerin, Butylene Glycol, Galactomyces Ferment Filtrate, Chamomilla Recutita (Matricaria) Extract, Artemisia Capillaris Extract, Portulaca Oleracea Extract, Caulerpa Lentillifera Extract, Beta-Glucan, Hydrolyzed Sclerotium Gum, Levulinic Acid, Betaine, Hydrolyzed Collagen, Sodium Hyaluronate, Gardenia Yellow Color, Maltodextrin, White Tea Tree Oil.
HOW TO USE
Wash your face thoroughly to reveal fresh, clean skin. After cleansing, gently pat the toner on your skin. Apply two to three dots of this serum into the palm of your hand. Massage your skin gently, rubbing the serum entirely into the skin. Lumiere White Tea Tree Toner and Serum Set make a simple and efficient skincare routine in your busy life.
View full details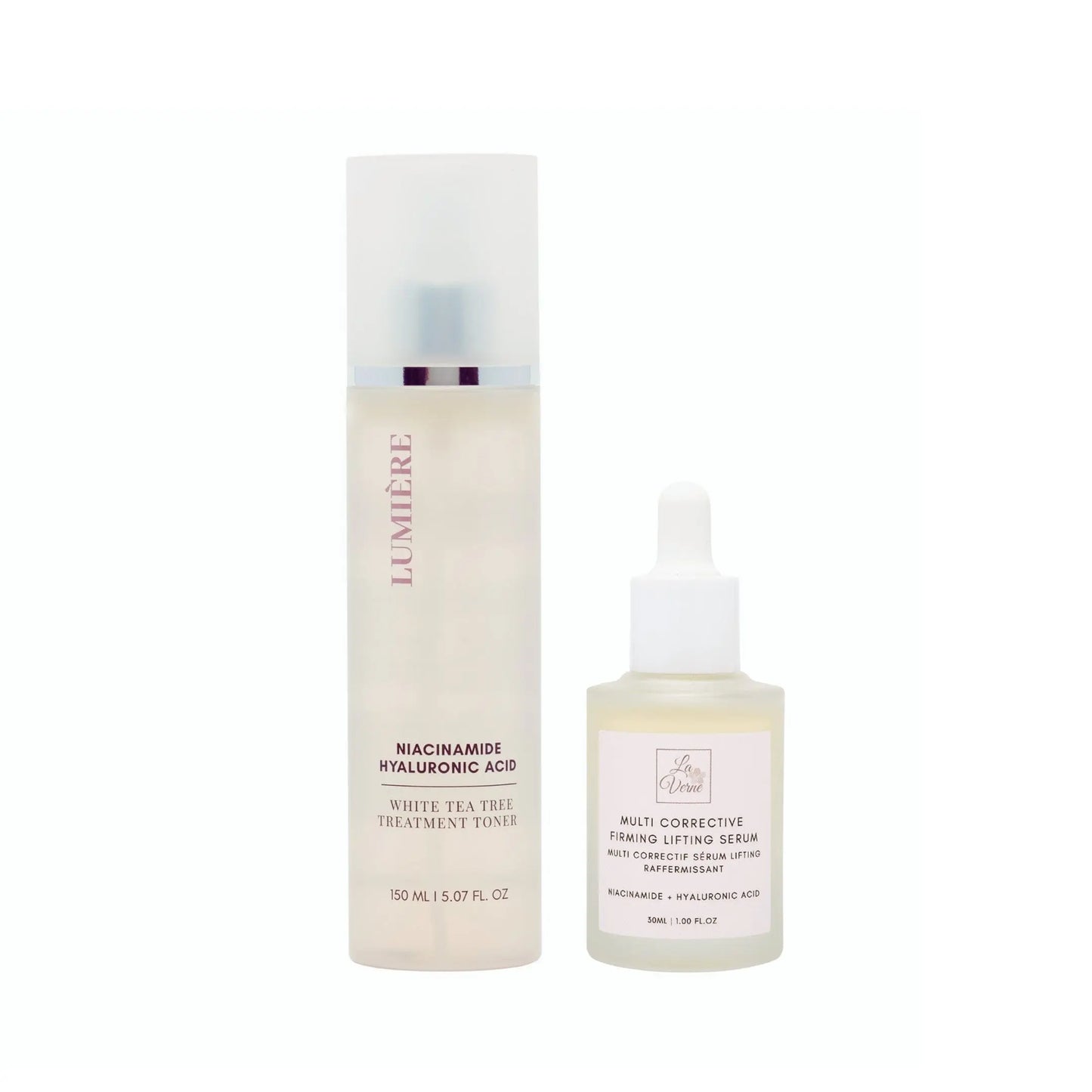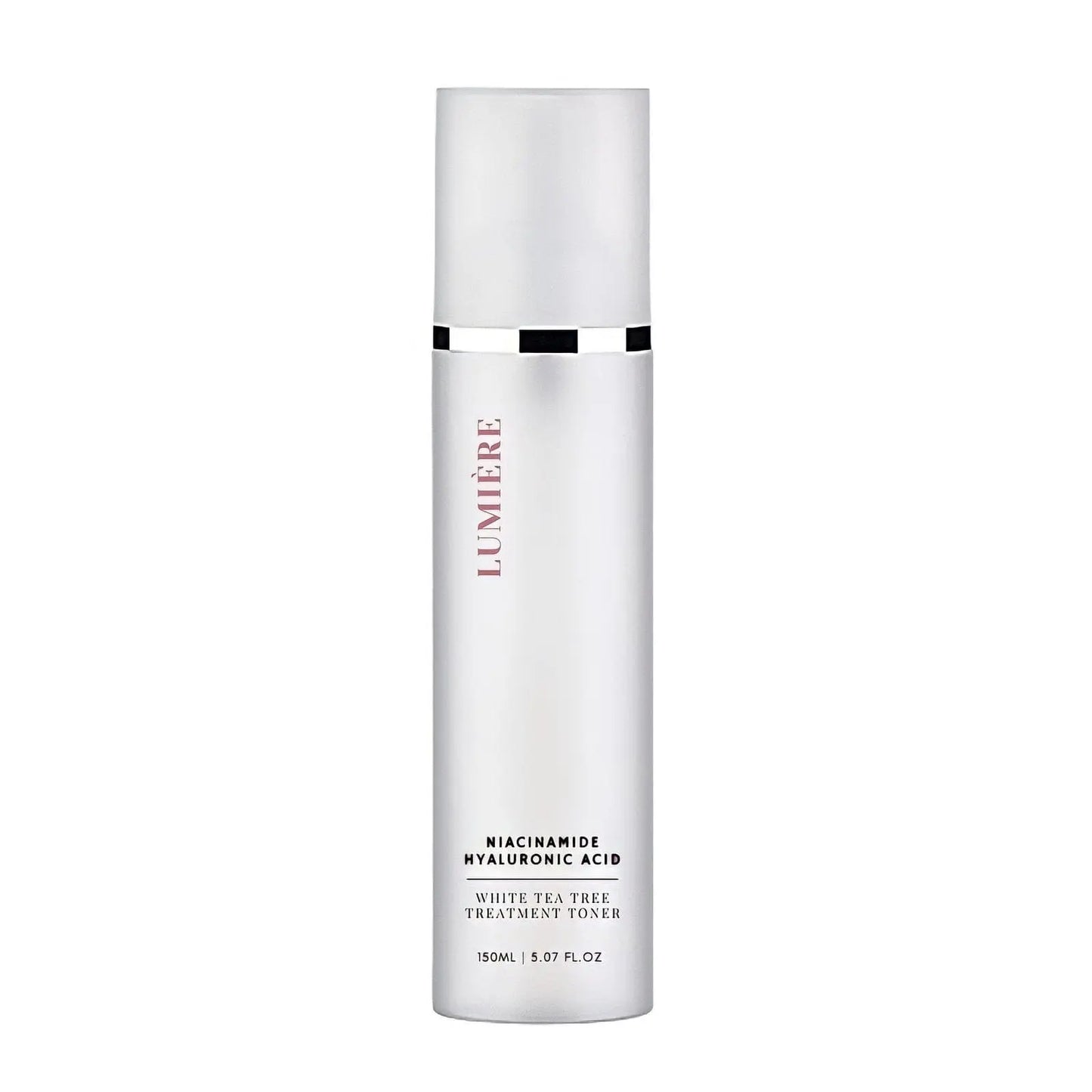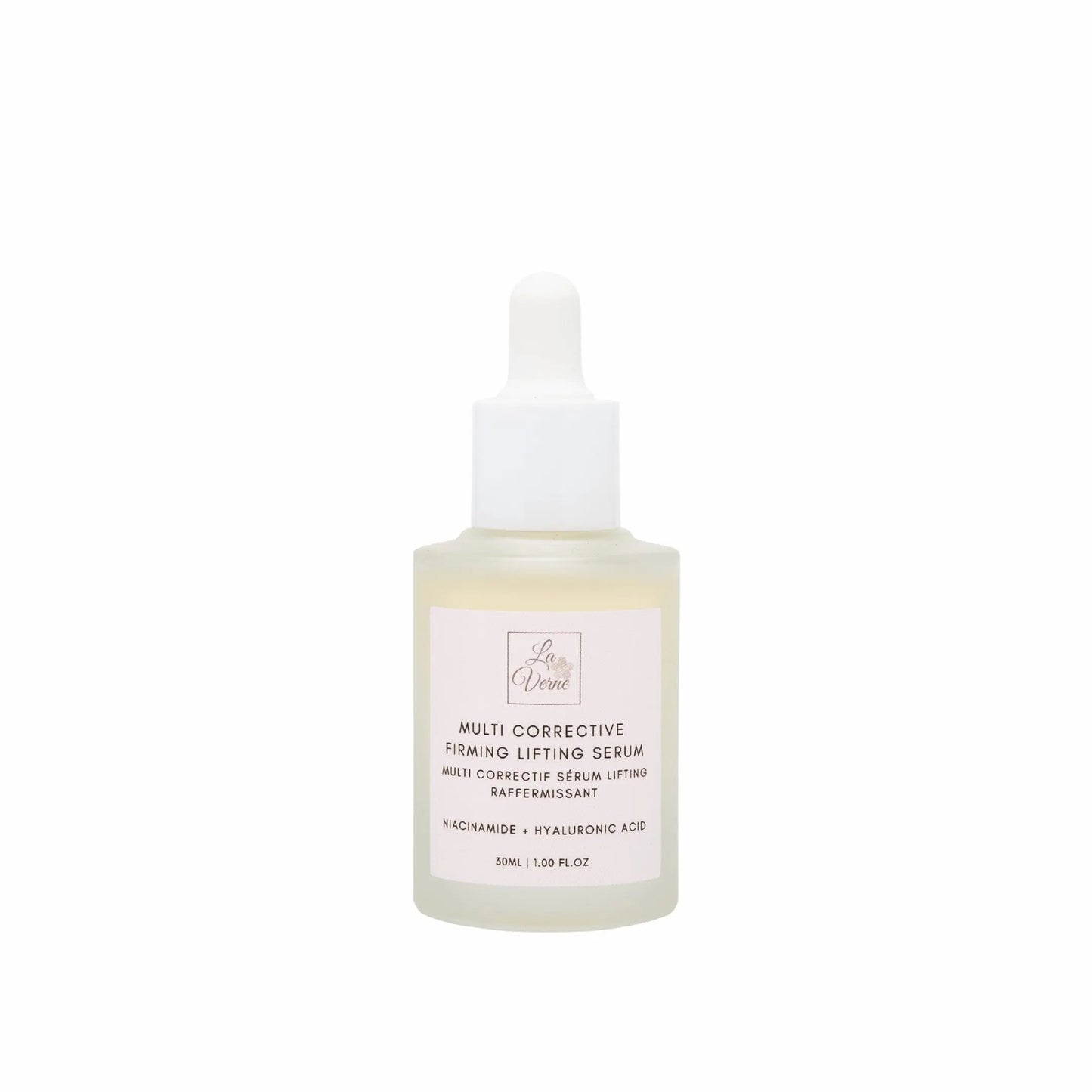 Good for sensitive skin!!!
I have sensitive skin, so I'm always cautious about trying new products. This set makes my skincare routine much easier. It really calms and soothes my skin, leaving it feeling refreshed. I've noticed a visible improvement in my skin's texture and overall appearance. Thanks to lumiere and I will definitely repurchase!
This toner and serum are awesome. My skin is very sensitive and dry, but this doesn't have any problems on my skin. it gives enough moisture for a while after I use it.
I bought this set first time and I have noticed a reduction in my fine lines and wrinkles. Nice smell and makes my face softer.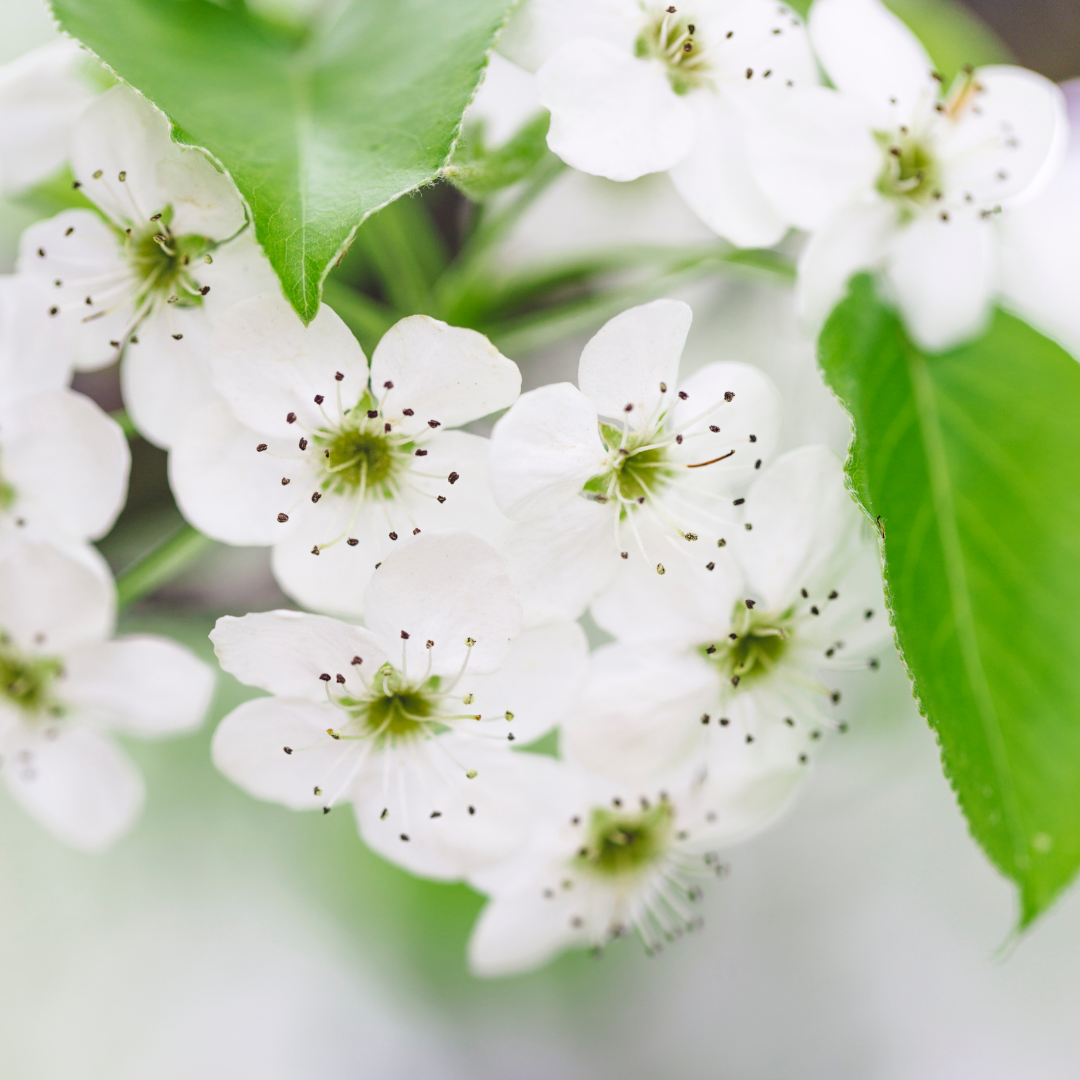 WHITE TEA
Camellia Sinensis (White Tea) Leaf Extract is obtained from young tea leaves picked before the buds bloom fully. The extract keeps your skin looking younger by protecting it from damage, and the antioxidant nature of the educes oxidative stress on the skin, which promotes skin cancer, wrinkles, and uneven pigmentation..
DISCOVER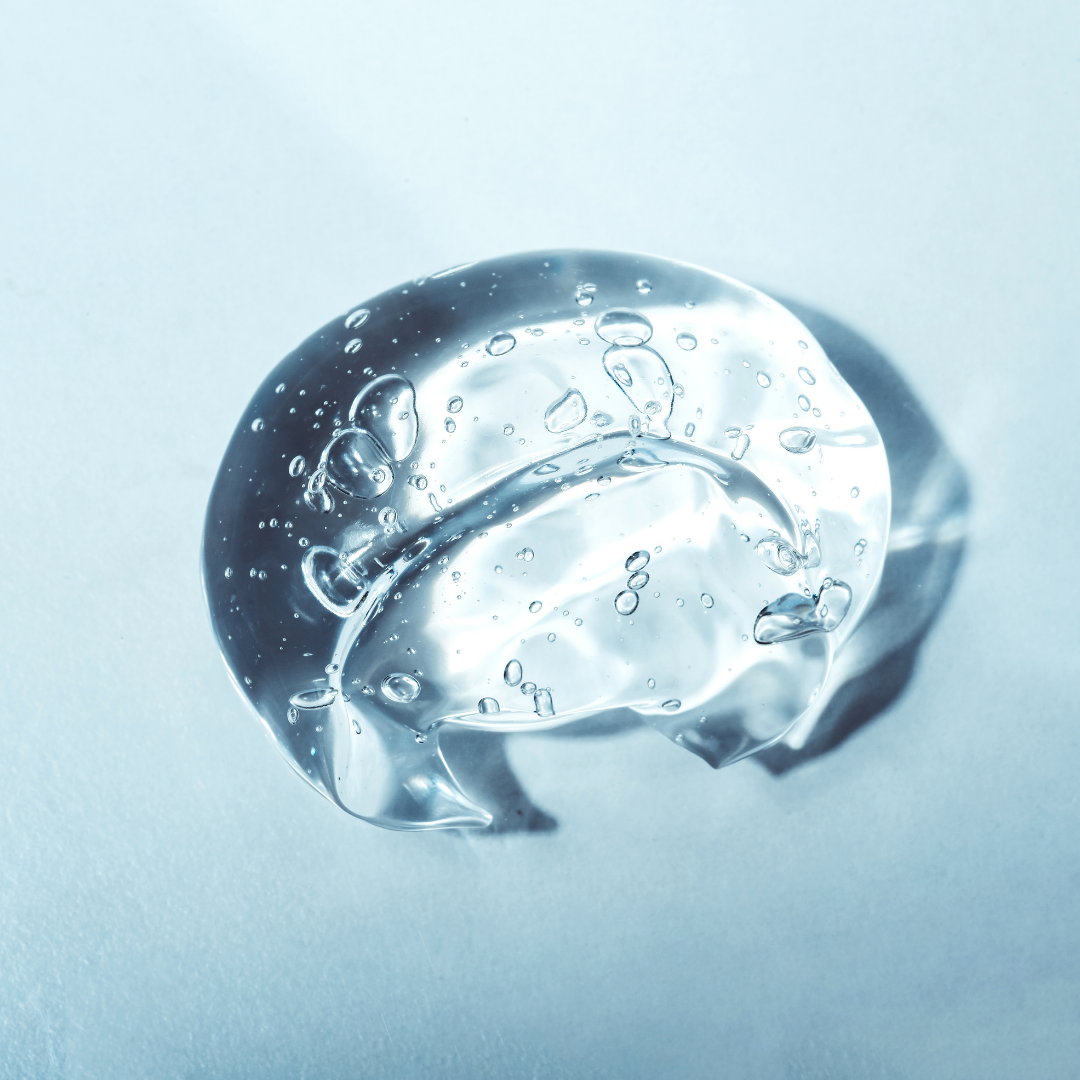 HYALURONIC ACID
Hyaluronic acid (or HA) adheres to water molecules, keeping the skin supple and hydrated. Our skin's hyaluronic acid levels drop as we grow older, resulting in dry skin and wrinkles. Supplements containing hyaluronic acid can aid in moisturizing the skin and minimize the appearance of fine lines and wrinkles.
DISCOVER